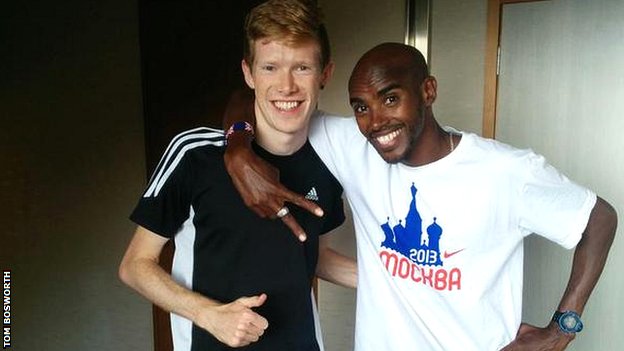 Race walker Tom Bosworth competed for Great Britain at the World Athletics Championships, is set to feature at the Rio Olympics and is the first athlete on the team to come out as gay.
Here the 25-year-old talks about how his head was smashed through a window because of his sexuality and why he revealed the news, on the Victoria Derbyshire show.
Coming out is no surprise to my friends, family and even team-mates, even Mo Farah who didn't bat an eyelid when I told him I was gay.
I got to know him and others on the Great Britain endurance team prior to the World Athletics Championships in August after we spent a few weeks on a pre-training camp in Japan.
It was a great chance to talk about it in a relaxed environment and everyone was very supportive of me being the first openly gay athlete on the GB team.
But there were some interesting questions when I told them about my circumstances.
My team-mates asked whether I had a partner and how old I was when I came out. They were intrigued by my sexuality and asked me whether I got any stick for being openly homosexual.
The truth is that I used to. When I was competing in local athletics a number of years ago, some other athletes called me 'fag' or 'queer'.
And when I was at school, when those feelings were still developing, I had my head smashed through a window by a group of boys. Thankfully, that's all in the past now.
Whilst my current team-mates were interested to talk about my sexuality, they soon realised there was nothing to be concerned about and all was perfectly normal. It was great that everyone could be themselves as the pressure built in camp before a major championships.
It shows you that if someone of Mo's stature can be supportive then there should be no issues from others.
Who is Tom Bosworth?
Born: Sevenoaks, Kent, 1990
Trains at the National Race Walking Centre in Leeds
Britain's number one race walker over 20km, and third-fastest in history
Was 12th at 2014 European Championships; 24th at 2015 World Championships
Has a degree in sports performance and is a qualified trampoline coach and sports masseur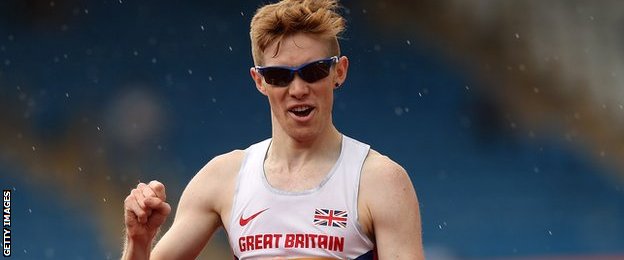 'My head was smashed through a window at school'
I wish that all athletes from my past had been as positive as Mo.
About four or five years ago, some former athletes in local athletics would verbally abuse me. It was pretty nasty, and made worse by the fact they found it funny. Thankfully, they were in the minority.
In the end, I just ignored them. I realised they had no positive part to play in my life and fortunately I had enough people around me who I could rely on for support.
Sometimes, you have to be a bit thick-skinned about it all and I learned that lesson, sometimes literally, in school.
When I was 15 or 16, I thought I was gay and somehow word got around in school, leading to a really difficult period in my life. Teenagers can be really nasty and half the time they don't even realise what they're saying. It's just ignorance, I guess.
A group of lads used to gang up on me and the worst episode came when they smashed my head through a window after a run-in. I decided not to tell anyone about it, so my parents or teachers didn't know. I guess I was more worried about people blaming me than the students but I had the support of my friends to get me through that tough time.
It was a decade ago, so I'd like to think that things have moved on a lot since then, even in schools, and that kids are more tolerant these days.
That experience taught me to ignore lone voices. I know there will always be people who have a problem with my sexuality, but one person's opinion doesn't affect me now, as I have support from my parents and partner.
I'm not even sure I can change the opinions of those boys. All I want to do is give a positive message that you can succeed in sport whatever your background. Be it gay, straight, black, white, religious or non-religious – there are no barriers.
High-profile gay sports men and women
Former Aston Villa footballer Thomas Hitzlsperger
British Commonwealth champion diver Tom Daley
England women's footballer Casey Stoney
Former Wales rugby union player Gareth Thomas
Former Olympic champion swimmer Ian Thorpe
'Some might see being gay as a weakness'
Coming out is not going to change my life on a personal level.
I've been comfortable with my sexuality and in a really happy relationship for the past four and a half years but in the build-up to the Rio Olympics next year, I don't want this news to become a distraction or affect those closest to me.
That's why I want to speak publicly about being gay now.
It's a big decision for me and a little scary what the reaction might be, but I do think that attitudes are changing. Tom Daley's decision to come out in December 2013 was a huge step in the right direction, paving the way for others to follow suit.
Unfortunately, speaking out about this as a sportsperson is still news.
In any line of work, whether you are a teacher or working in an office, it's normal to have a gay colleague but in sport, we are lagging behind.
That's a real shame and I'm not sure why that is because this summer has opened my eyes as to how supportive everyone in athletics really is.
A lot of sport is about giving the appearance that you are strong, that you have no weaknesses that rivals can prey on.
So perhaps there are people who feel that homosexuality is seen as a weakness, maybe even by those who are gay, as it may give others a chance to attack them. By hiding it, they might feel like they are protecting themselves.
But I guess it could also hinder their sporting performance. By keeping your true self a secret, it could play on your mind and for any athlete that could turn into a distraction.
I can only speak from my experience but I found it a relief to be open with my friends, family and team-mates. It made me feel comfortable not having that cloud over me, the feeling that you are covering things up.
I just hope that the more sportsmen and sportswomen who come out, the more sport will catch up with the real world.
Hopefully in two or three years' time, coming out won't be a news story.