https://youtu.be/4Ji8OpjSCXE
Target is ringing in Pride month in a very big way, introducing
a rainbow-themed clothing and accessories line
as well as an inclusive ad campaign.
Unveiled June 8, the Minnesota-based retail giant's #TakePride line is available online and in select stores. It includes T-shirts, swim trunks and flip-flops, as well as headphones, iPhone cases and other products.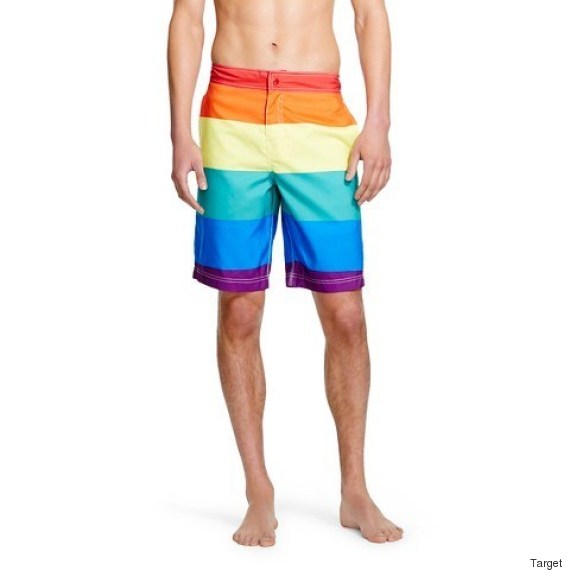 Pride Swim Short, Rainbow
The commercial that accompanies the campaign, which can be viewed above, pairs archival footage of LGBT rights milestones with colorful, time-lapse images and present-day Pride clips.
"We're not born with pride," a voiceover declares. "We take pride, pride in celebrating who we were born to be."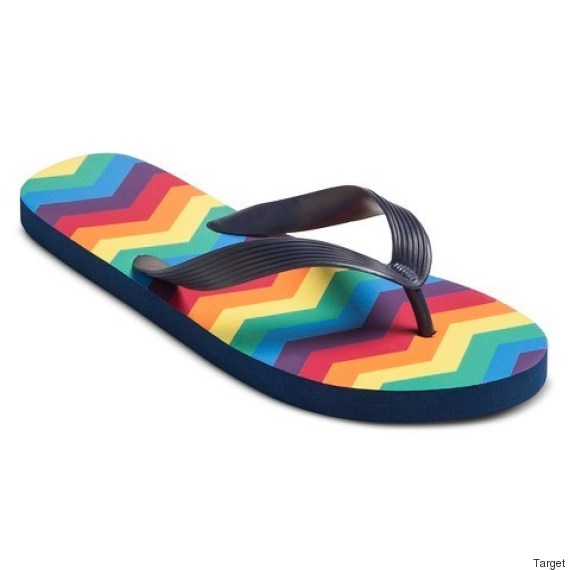 Pride Flip Flop Sandals, Rainbow Chevron
Laysha Ward, Target's Executive Vice President and Chief Corporate Responsibility Officer,
said in a statement
:
We're making our message loud and clear: Target proudly stands with the LGBT community, both as a team member and team player through all that we do – from our volunteer efforts to our long-standing partnerships with groups likeFamily Equality Council and Gay, Lesbian & Straight Education Network, to the very products we carry in our stores and online.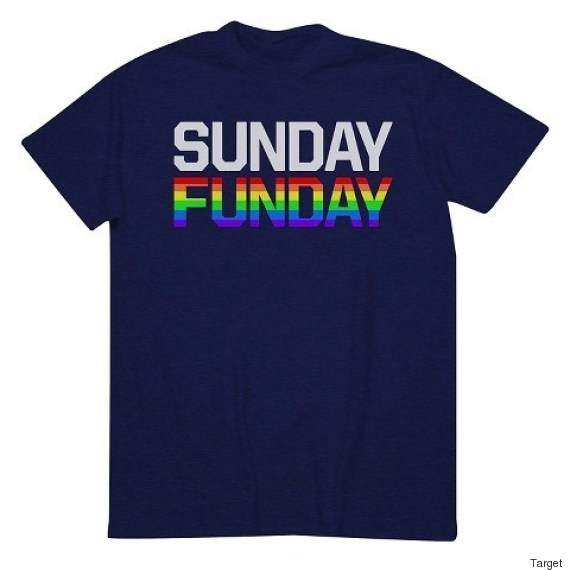 Pride Men's Sunday Funday, Navy
Target, which came under criticism in 2013 for reportedly
making a donation to an organization
that supported an anti-gay Republican gubernatorial candidate in Virginia, has made great strides toward inclusivity in recent years. Last year, the company signed
an amicus brief in support of marriage equality
, while a commercial for their "Made to Matter" product line featured
two gay men painting with a child
.
In 2012,
the company created 10 Pride T-shirts
, including two designed by Gwen Stefani, that were available online.
View a selection of products from Target's #TakePride line below:
Pride Women's 50 Shades of Fabulous T-Shirt, White

Target

Pride Rainbow Chevron Earbud with Microphone

Target

Pride Kid's Thing Called Love T-Shirt, White

Pride Men's Love is Love Tank, White

Target

Pride Flip Flop Sandals, Rainbow Chevron

Target

Pride Love Is Love Tumbler

Target

Pride Men's Sunday Funday Navy

Target

Pride Men's Vintage Love Is Love T-Shirt, Grey

Target

Pride Men's Unicorns On Fleek T-Shirt, Charcoal