By ARON HELLER 01/10/14 11:49 AM ET EST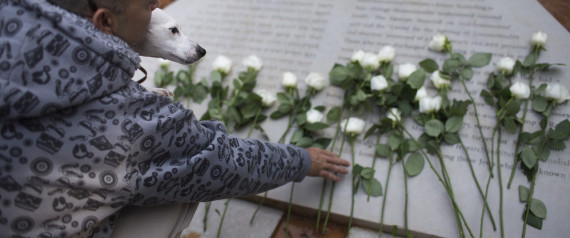 TEL AVIV, Israel (AP) — Israel's cultural and financial capital unveiled a memorial Friday honoring gays and lesbians persecuted by the Nazis, the first specific recognition in Israel for non-Jewish victims of the Holocaust.
Tucked away in a Tel Aviv park, a concrete, triangle-shaped plaque details the plight of lesbian, gay, bisexual and
transgender people under Adolf Hitler's Third Reich. It resembles the pink triangles Nazis forced gays to wear in concentration camps during World War II and states in English, Hebrew and German: "In memory of those persecuted by the Nazi regime for their sexual orientation and gender identity."
The landmark joins similar memorials in Amsterdam, Berlin, San Francisco and Sydney dedicated to gay victims of the Holocaust. While Israel has scores of monuments for the genocide, the Tel Aviv memorial is the first that deals universally with Jewish and non-Jewish victims alike and highlights the Jewish state's rise as one of the world's most progressive countries for gay rights.
"I think in Israel today it is very important to show that a human being is a human being is a human being," Mayor Ron Huldai said at the dedication ceremony, where a rainbow flag waved alongside Israel's blue-and-white flag. "It shows that we are not only caring for ourselves but for everybody who suffered. These are our values — to see everyone as a human being."
Israel was born out of the Holocaust and its 6 million Jewish victims remains seared in the country's psyche. Israel holds an annual memorial day where sirens stop traffic across the nation, it sends soldiers and youth on trips to concentration camp sites and often cites the Holocaust as justification for an independent Jewish state so Jews will "never again" be defenseless.
But after 70 years, Tel Aviv councilman Eran Lev thought it was time to add a universal element to the commemoration. Lev is one of many gays elected to public office in Tel Aviv, a city with a vibrant gay scene that has emerged as a top international destination for gay tourism.
"The significance here is that we are recognizing that there were other victims of the Holocaust, not just Jews," said Lev, who initiated the project during his brief term in office.
As part of their persecution of gays, the Nazis kept files on 100,000 people, mostly men. About 15,000 were sent to camps and at least half were killed. Other Nazi targets included communists, Slavs, gypsies and Jehovah's Witnesses.
Unlike their persecution of Jews, however, there was no grand Nazi plan to exterminate gays. Nazis viewed being gay as a "public health problem" since those German men did not produce children, said Deborah Dwork, director of the Strassler Family Center for Holocaust and Genocide Studies at Clark University in Worcester, Mass.
"The idea was to change their behavior, not to eradicate them, not to murder them," Dwork said.
The policy was far from sweeping — as evidenced by the rampant homosexuality among the ranks of the Nazi Party's SA paramilitary wing, which helped pave Hitler's path to power. The most famous gay Nazi was Ernst Röhm, one of the most powerful men in the party before Hitler had him executed in 1934.
Later, the Nazis outlawed homosexuality and the Gestapo set up a special unit targeting homosexuality. In the Buchenwald concentration camp, the Nazis carried out experiments to try and "cure" homosexuality. Those sent to the camps were forced to wear pink triangles, compared to the yellow stars that Jews bore on their clothing. Gay Jews wore an emblem that combined the two colors.
Today, Israel is one of the world's most progressive countries in terms of gay rights. Gays serve openly in Israel's military and parliament. The Supreme Court grants a variety of family rights such as inheritance and survivors' benefits. Gays, lesbians and a transsexual are among the country's most popular musicians and actors.
Moshe Zimmermann, a professor from the Hebrew University of Jerusalem and the memorial project's historical adviser, said the Tel Aviv monument marked a big step in Israel by ridding itself from what he called a monopoly of victim hood.
"We are finally shedding the load of being the lone and ultimate victim," he said. "We can learn from this that by recognizing the victimhood of others, it does not diminish the uniqueness of your own victim hood."

Further reading: