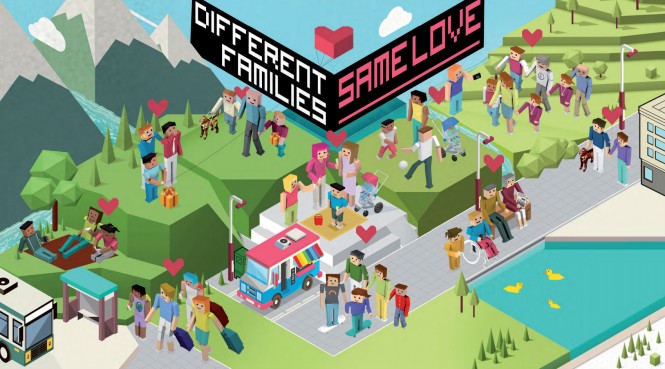 Look: 'Different Families, Same Love' poster set to go into each Irish school
By John Mack Freeman
Just in time for same sex marriages to begin in Ireland in the next two months, a new poster has been released by the government that will go into each school. Called "Different Families, Same Love" (and featured above), it shows the full diversity of families, hopefully exposing children to the idea that family means a lot of different things. Via
PinkNews
:
Launching the poster, Education Minister Jan O'Sullivan directed: "This practical resource will be invaluable to teachers in creating inclusive classrooms. It will also aid in successfully implementing the compulsory Anti-Bullying Procedures.
"These procedures require every school in the country to engage in preventative and educational strategies to tackle homophobic and transphobic bullying. This poster will contribute to the work that primary schools are already doing in this regard and furthermore sends out a clear message to the LGBT children and LGBT-headed families of our society that they are welcome and cherished in our schools."
General Secretary of the INTO Sheila Nunan added: "The INTO strongly endorses this poster and its use in all primary school classrooms.
"This resource sends an affirming and welcoming message to LGBT children and LGBT-headed families.