Shannon Sickles and Grainne Close, and Chris and Henry Flanagan-Kane, the first UK couples in civil partnerships, pursue legal battle over full marriage equality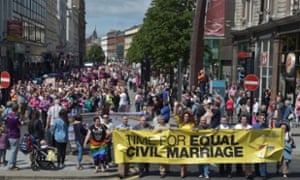 An American woman and her partner, who were the first couple in the UK to have a civil partnership ceremony, are to challenge Northern Ireland's ban on gay marriages.
Shannon Sickles, a US citizen, and Grainne Close made history a decade ago when they were the first gay couple to have a civil partnership in Britain, sealing their union at a ceremony at Belfast city hall.
Now the couple are taking part in a legal case to overturn the bar on LGBT couples getting married in
Northern Ireland
. They will launch their legal case on Friday morning.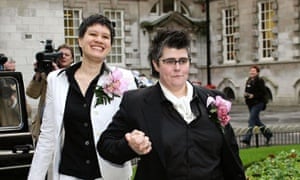 Northern Ireland remains the only part of the UK where there is no gay marriage equality. The deputy first minister, Martin McGuinness, has suggested a regional referendum – similar to the one that passed in the Irish Republic last month – on gay marriage.
Sinn Féin and other parties have made repeated attempts to legislate for gay marriage equality in the Northern Ireland assembly, but their proposals have been voted down by unionists. The evangelical Christian wing of the Democratic Unionist party has mounted fierce opposition to introducing gay marriage equality in the province.
Close and Sickles will be joined by a male couple, Chris and Henry Flanagan-Kane (previously Christopher Flanagan and Henry Kane) in seeking a judicial review of the ban.
On her Facebook page, Close posted on Wednesday: "This year, December 19th, 2015 Shannon and I, along with Chris and Henry Flanagan-Kane, will celebrate 10 years of our civil partnerships.
"Northern Ireland was the first place in the UK to recognise civil partnership legislation and is now the last place in the UK and Ireland to recognise equal marriage.
"On June 26th, 10am in the high court, the four of us are bringing a legal challenge for a judicial review of the legislative prohibition preventing us from entering into civil marriage."
"Our barrister, Laura McMahon, will argue that to bar equal marriage is a fundamental discrimination of our rights under the European convention on human rights, which is without justification."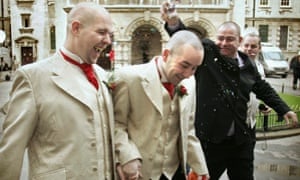 She added: "You will hear the arguments from DUP and other religious groups (all the same that have been played out in the Irish referendum) that we have civil partnership, so why marriage?
"The fact that we have to stand in a different queue from opposite-sex peers when it comes to having our relationship recognised by the state is itself indicative that we are treated differently."
The Rainbow Project, one of the main gay rights organisations in Northern Ireland, said it will attend the hearing in Belfast this Friday, in solidarity with the couples.
"Anything that tests the legal basis of Northern Ireland's ban on civil marriage is a positive step," said John O'Doherty, the Rainbow Project's director. The organisation has been planning to launch its own legal challenge, based on human rights legislation, this autumn.
Earlier this month, thousands attended a rally in Belfast organised by the trade union movement and Amnesty International, calling for gay marriage equality in Northern Ireland.
The Irish Congress of Trade Unions has backed the campaign to lift the ban, claiming that it not only violates European human rights law but also equality legislation contained within the 1998 Good Friday Agreement.