(74b

Albany Road
, Cardiff,
CF24 3RS
)
5 Artist Exhibition The Albany Gallery
Caroline Bailey – studied Printed Textile at Manchester and graduated in 1978.
Claire Griffiths – studied at the Royal Forest of Dean College and also at the University of Wales, Cardiff where she acquired a BA Fine Art Degree in Printmaking.
Matthew Lopas – Matthew Lopas was born in 1965 in Chicago. An Artist all his life, he has been painting interiors lit by warm light for about ten years
Mhairi McGregor –

RSW

was born in 1971. She studied at Glasgow School of Art from 1989 – 1993, gaining a BA (Hons) in Fine Art. She has exhibited very widely in Scotland, in England and Australia.
Aled Pritchard-Jones – Born in Bangor, Aled has

lived in Snowdonia until he trained aSean architect at Bath University, retiring in 2000, when he

then concentrated on painting the landscapes of Gwynedd which he has loved and walked since childhood.

I have visited the gallery three times in as many weeks, each on Sunday morning as a prelude to my walk around Roath Park. Each time I have found some new nuance which I failed to see before. The various forms of art cover seascape and land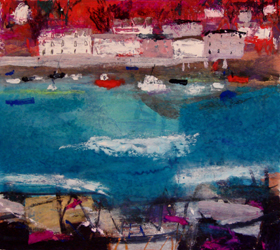 inspired pieces by Caroline Bailey to those of her check tablecloths with flowers in vases lead into those of Aled Pritchard-Jones' Welsh countryside, mountains, lakes riverSeand the most beautiful of all (in my opinion) his track/road through a glade of trees name ABERDUNANT PRENTEG.
Mhaira McGregor's paintings are almost like looking at solid pieces of coloured plastic overlaid to give us buildings which look substantial enough for you to walk into. She maintains this technique when handling her flowerSeand containers though her glass containers seem to have a fragility against her flowers.
Claire Griffiths work moves through ranges of figures either set in an almost classical ballroom pose for tango, waltz etc to farmers meetings at a market in 'welly' boots, walking stickSeand tweeds
each clearly identifiable as being created by her as they have no discernible face.

Finally I come to Matthew Lopas' work. His interiors seem very flat and drab against the high colours shown by the other artists in the exhibition, but they are no less deserving of attention HANNAH AND DAD for one bares looking at and will tug the heart strings of many a parent.
I have enjoyed this exhibition,, as I have enjoyed others held in this unique, small gallery located on two upstairs floors of the main road.
You might walk past it easily, but to do so would be a shame you would loose an opportunity to look at some original art from wonderful artists.