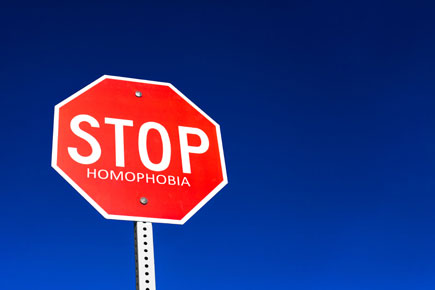 Imagine: 3 years in prison just for being gay. That's what could happen to Lahcen and Mohsine, two Moroccan gay men.

They were arrested while taking a photo next to a monument in Rabat. The police said they were violating "public modesty" by standing too close together.

Their trial is in 3 days, where it's likely they'll get a 3-year jail term:

last month some other Moroccans were given 3-year sentences, just for being gay. All Out's Moroccan partner, the Aswat Collective, is fighting for Lahcen and Mohsine's freedom and have urgently asked us to help.

A huge global outcry, just before their trial on Tuesday could be a game-changer for Lahcen and Mohsine. The Moroccan authorities are investing in the tourist industry to attract visitors from across the world – they can't risk the damage to their reputation of a massive global petition.

Just 3 days left to speak out that being gay is not a crime.

Sign and share the petition now, to build a giant call for Lahcen and Mohsine to be freed:
go.allout.org/en/a/lahcen-mohsine/

Lahcen and Mohsine were sightseeing around Rabat on 4 June when they were arrested. Mohsine doesn't live in the city, so Lahcen had showed him several tourist spots. They were taking photos at the Hassan Tower when they were arrested.

Since their arrest, Lahcen and Mohsine's full names and pictures were leaked to national media in Morocco. Hate rallies have been organised outside their families' homes and the police haven't tried to protect their families from harassment.

Call for Lahcen and Mohsine to be freed: go.allout.org/en/a/lahcen-mohsine/

Being gay is still illegal in Morocco, even though the 2011 constitution bars discrimination on any grounds. The Aswat Collective is campaigning for the Moroccan government to abolish the article of the penal code – Article 489 – which outlaws homosexuality.

In April, 120,000 All Out members got behind five Chinese women who were arrested for campaigning for LGBT rights and women's equality. We joined a global outcry of journalists and world leaders and all five women were released! Then in May, more than 2,000 of us chipped in donations to safely rehouse three gay and trans refugees fleeing ISIS. Now let's help free Lahcen and Mohsine.

Add your name now: go.allout.org/en/a/lahcen-mohsine/

Thanks for going All Out,

Andre, Guillaume, Jessica, Oscar, Rose and the rest of the All Out team.

P.S. All Out depends on small donations from members. Every individual donation goes to powering groundbreaking global campaigns. It also means governments and corporations can't tell us what to do because we won't take their money. Will you help keep us strong? Click here now to chip in:

go.allout.org/en/a/ps-donate
In 3 days, two Moroccan men could get 3-year jail terms – just for being gay.
Join a global outcry to free Lahcen and Mohsine.